2019
& now including England, the Netherlands, & Germany
Departing July 12th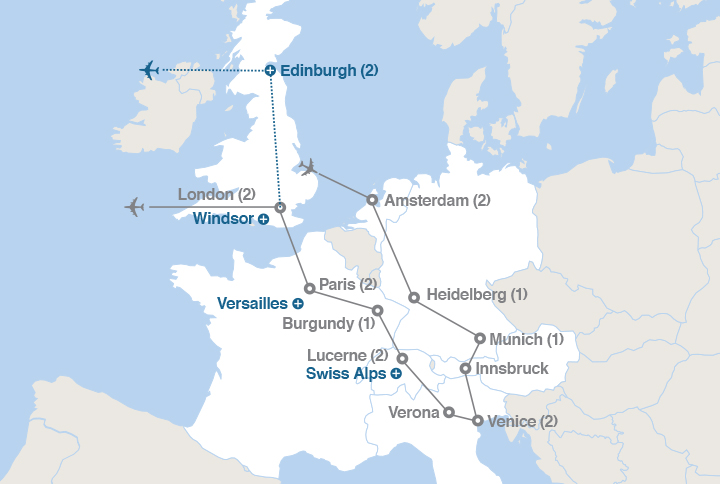 While this is not a school trip it is an educational trip led by art, debate, and theatre teachers from our school. Our tour company is EF Tours which is it's own educational organization and even has a high school and college credit program for travelers.
We invite students, and their parents or other family members (high school aged and above) to travel with us.
This trip includes:
Flights
Hotel
Travel to seven countries and 12+ cities!
All transportation on the trip (buses, trains,…)
Tickets to all of the included attractions and activities
Guided tours throughout the cities we visit
All breakfast and dinner meals (except while in the airport to and from our first and last stop)
Tour Director to lead and guide us the entire trip
Security at the hotel at night
And tons more!
Slideshow of where we are going!:
https://docs.google.com/presentation/d/1NmOTR0udnPyBLGvj_MWn–gBE-LjhtpgoUUU-R5YZv4/edit?usp=sharing
Upcoming Europe Trip Meetings
In Room 3-118
Monday, March 4th 3:15pm-4:15pm
Monday, March 25th 3:15pm-4:15pm
Monday, April 8th 3:15pm-4:15pm
Monday, April 22nd 3:15pm-4:15pm
Monday, May 6th 3:15pm-4:15pm
Monday, May 20th 3:15pm-4:15pm
Parents are always welcome but are not required at these meetings; however, close to the end of the school year we will have a meeting that is mandatory for a parent to attend to finalize paperwork. We'll set that meeting date/time when we get closer to it, as we have to get some of the final information from EF to hold this meeting.
EARNING CREDIT FOR OUR TRIP
Using EF's guided learning model, students use their strengths to investigate an issue or topic that inspires them. They reflect on what they've learned through a post-tour project that gives even more meaning to travel—and can earn them academic credit.
Earn Free High School Credit
By completing the assignments on WeShare you can earn a .5 high school credit in Global Studies as part of going on our trip. Use the link below for more information!
https://www.eftours.com/help-center/education/high-school-credit
Earn College Credit
Through Southern New Hampshire University you can earn 3 college credit hours in Interculturalism and Global Exploration for only $215, as part of going on our trip. Use the link below for more information!
https://www.eftours.com/help-center/education/college-credit
Europe Trip Meeting Agendas: https://docs.google.com/document/d/1hljWSmiipBXuDTMzBNiFl6eH8hYX2y1tMr-BviGiS7U/edit?usp=sharing